It's hard to believe that in just six years, Crumbl Cookies has exploded from one single store in Utah to now over 850 stores across every state in the U.S. During this time, Crumbl's brand also transformed from obscure to widely recognized. It seems like everyone and their mom is crazy about Crumbl Cookies.
Sure, the company's low-risk franchise model has contributed to its growth. And of course, the massive cookies are delicious. But Crumbl's secret ingredient is its powerful content marketing.
In the words of Utah news outlet Deseret News, Crumbl has "perfected the concept of a marketing company that also sells cookies."
Just how engaging is Crumbl's content marketing? Here are a few examples:
On Instagram, Crumbl boasts 3.9 million followers. For reference, Dairy Queen is a global dessert chain with about eight times the number of stores, yet it has less than one-fifth of the follower count of Crumbl.
On Tik Tok, Crumbl has 6.9 million followers—more than three times the followers of fast food mainstay Starbucks, and over seven times their total "likes."
On Reddit, 29,000 members (and many more non-members) passionately discuss Crumbl on a dedicated fan-run subreddit. Incredibly, this subreddit ranks among the top 5% by size on all of Reddit.
Crumbl's social media following is large and fanatical. But what is it about Crumbl's social media presence that makes it so magnetic?
Let's explore four key lessons to learn from Crumbl's wildly successful content.
1) Create an "Instagrammable" experience
If you're an active social media user, odds are good that someone you follow has shared a photo or video of a cookie-filled bubblegum pink box. Or if you're like me, you've posted one yourself:
Crumbl's iconic pink box and oversized cookies are more than just nice to look at—they've inspired an unbelievable amount of user-generated content (UGC) for the cookie giant. And this is completely by design. On its website, Crumbl describes how its box's "signature pink coloring [makes] it recognizable and Instagrammable, perfect for posting that sweet Crumbl review, boomerang, or photo on social media!"
This UGC serves as a powerful social proof. Research has shown that consumers find UGC 9.8x more impactful than influencer-produced content. This means that UGC can be a powerful motivator for one's family and friends to try Crumbl. All the while, Crumbl's consistent, eye-catching branding makes the box of cookies recognizable even when the company's logo isn't visible in the content.
And the value doesn't end there. Crumbl often re-posts UGC to their platforms, allowing their massive follower base to see other customers' authentic experiences with the brand.
The takeaway: If your brand already receives a good deal of UGC, great! Put it to use by reposting it when it fits your brand image and marketing goals.
If your brand sees little or no UGC, you may want to examine how your company can create a more shareable customer experience. Often, this starts with ensuring that your brand is authentic and that it resonates with audiences.
Branding and packaging don't usually fall to social media teams. Still, these teams benefit greatly from a thoughtfully-designed product and customer experience. Try working with your company's marketing and product leadership to see what parts of your customer experience could be altered to inspire more UGC.
2) Create a hype cycle
The idea of injecting excitement into marketing is nothing new. But Crumbl's weekly "menu drop" and accompanying social media content make the business an engagement machine.
Excluding two evergreen flavors, Crumbl's 6-flavor menu is completely refreshed weekly. The week's menu is shared in the form of a "flavor drop" and is posted to Crumbl's Facebook, Instagram, Twitter, and Tik Tok every Sunday night.
What does a flavor drop video look like?
High-octane electronic music blares atop extreme close-up clips of cookies from each flavor. Detail shots show cookies being frosted, topped, and tantalizingly pulled apart. The high-resolution visuals draw attention to the cookies' textures. Fast changes between shots keep the viewer engaged.
It's some high-energy, mouthwatering content. But the real magic is what happens after the flavor drop.
Crumbl's many superfans take to their platform of choice to declare their thoughts on the drop. Some debate fiercely that this week's menu is a great one, or that no, it's a "skip week." Some even flock to a fan-run forum on Reddit solely dedicated to "discussing all things Crumbl Cookies." As mentioned, this active subreddit is among the top 5% on all of Reddit when ranked by the number of members.
The flavor drops, then, are not just simple announcements intended to inspire orders. They're also magnets for user engagement and earned publicity from followers-turned-spokespeople. All without needing to spend a dime on paid ads.
The takeaway: Ask yourself how you can incorporate more excitement into your content marketing. For example…
Does your business model lend itself to exciting reveals?
Can you create FOMO (fear of missing out) in your audience?
How can you inspire your audience to rant and rave about you?
3) Speak your audience's language
Crumbl's online voice is playful and human. The company's casual language and use of emojis help it present itself less like a food service giant and more like an approachable peer to their fans (and potential fans).
To a commenter who said "Thank you for bringing pnb blossom back! I've been waiting!," Crumbl replied "Anything for you! 🤟." Another commenter said "I NEED GALAXY BROWNIE!!!!" to which Crumbl replied "YES YOU DO!!!! 🙌."
But the real test of Crumbl's voice is when the company receives negative feedback. As mentioned, the weekly flavor drops lead to fierce debates within the audience. The dissident side is often very vocal. Examples: "Surprise surprise …more chocolate and peanut butter flavored cookies😐." "Ugh i should've got the last weeks menu…🤦🏽‍♀️" "This is arguably one of your worst line ups in the past like 2 months."
Rather than ignore these inevitable complaints, Crumbl addresses them with some amusing content. See the below tweet: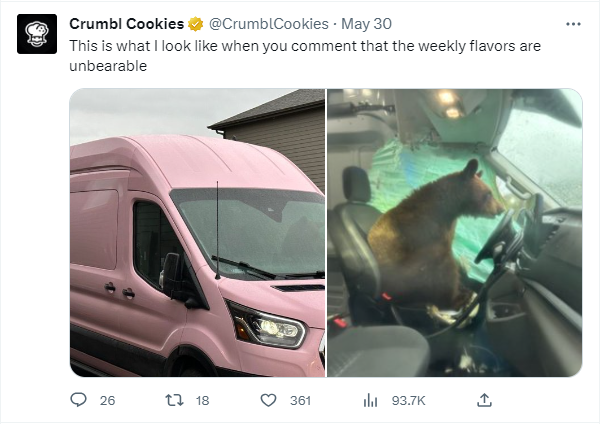 The tweet feels human because it is written in the first person, and it conveys the brand's playfulness with its silly bear pun.
The takeaway: When developing your brand voice, consider how your audience members speak. You can find this out even if your company doesn't have a dedicated subreddit like Crumbl does. Start by checking your company's comments section. When you've exhausted that, move on to online places where your audience spends time, such as relevant forums and social media accounts.
Once you have developed a voice that is both resonant for your audience and true to your brand, consider unconventional ways to use it. Does your company face a lot of online skepticism or critical feedback? Depending on the severity, perhaps you can address it head-on in your content. This can show that you, like Crumbl, are listening to your audience.
4) Interact with your followers directly—even when you make a mistake
A customer named Andrea left a comment on Crumbl's Instagram post complaining that her latest cookie had been "horrible and undercooked in the center." In a particularly human moment, a Crumbl social media representative accidentally addressed her as "Amanda" in a reply. Andrea expressed annoyance, as did several other commenters. One reply read "crumbl cookie is down bad not once but twice" (for those not fluent in Gen Z–speak, this use of "down bad" roughly translates to "in a difficult or despondent situation).
The Crumbl representative responded to the mishap with a candid, emoji-filled reply: "We aren't even sure where we got Amanda from 🤔 We are so sorry for the mix up Andrea. 🫣 Send us a DM and we'll make it up to you! 🍪🫶" This proved to be a wise response: Andrea expressed relief, and the snarky replies from bystanders stopped. While this is only a single example of Crumbl's communication with its audience via social media, it illustrates the attention they provide to a single customer. And why wouldn't they? After all, the comment section is for all to see—they might very well win back more than one customer in this kind of interaction.
The takeaway: Your social media presence should always be just that: Social. (It's cliché, but it's true.) Replying directly to your audience members shows that you are listening to them, helping them feel more connected with your brand. It's also an opportunity to influence your brand's reputation among those who browse but do not leave a comment.
And when mistakes happen, address them honestly while using your authentic brand voice. Your audience members will appreciate it.
In conclusion…
Crumbl is a standout case study in content marketing. The company's success is a testament to the power of a well-crafted customer experience and an engaging social media presence. Hopefully, you now feel inspired to approach your content marketing in a new way. And if not, maybe you're at least inspired to treat yourself to a cookie.
P.S. Need help with content marketing strategy or execution? Hi, we're Creative Noggin, your full-service outsourced marketing team (or extension of your existing team). Get in touch and we'll explore how we can take your content to the next level.